Allied Coaches provides clients with a full range of dedicated services tailor made to the transportation requirements of our clients. From day trips to week long excursions, our flexible service allows clients to experience the stunning landscapes and wonder of Ireland all from our comfortable executive class coaches.
Coaches are the ideal way to see Ireland and our comfortable and stylish buses are the perfect transportation option. Whether your group wants to immerse themselves in Ireland's ancient history or play golf on some of the world's best golf courses, we'll be able to accommodate your unique requirements.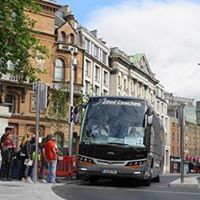 To book one of our luxurious coaches, get in contact with Allied Coaches today.
We provide coaches for hire to our Dublin based clients. Experience everything the vibrant city has to offer. From world class shopping, world famous night life and a huge amount of Irish history to see and experience, make sure you experience everything in style with a coach from Allied Coaches
For smaller groups, we provide luxurious mini buses that are perfect for navigating through the twisting roads and narrow town streets of Ireland. All our mini buses are fitted with modern air circulation systems as standard and have large storage facilities making them perfect for a golfing tour or any other group activity that requires equipment.
From large groups to smaller more intimate affairs, our buses are the ideal transport solution for clients who want to enjoy everything Ireland has to offer. From Ireland's famous night life to our rugged coastline and world class dining, you'll be able to experience it all with a quality coach from Allied Coaches.
Ireland can boast some of the world's finest golf clubs. For any golf enthusiast, a trip around Ireland's renowned courses is an absolute most. We provide coaches fitted with enough storage space to safely transport you and your equipment around a selection of Ireland's stunning Golf courses. Transport corporate clients in style with Allied Coaches's large fleet of luxurious buses. No matter the size of your corporate event we'll have the appropriate size bus to successfully transport all attendees to and from your corporate event. From company-wide events to smaller conferences involving upper management, you can be assured of a professional reliable service with Allied Coaches.
Coach Hire Dublin
We provide coaches for hire to our Dublin based clients. Experience everything the vibrant city has to offer. From world class shopping, world famous night life and a huge amount of Irish history to see and experience, make sure you experience everything in style with a coach from Allied Coaches
Allied Coaches
Unit 113 GRANGE WAY BALDOYLE INDUSTRIAL ESTATE,
BALDOYLE,
Ireland
Allied Coaches
Unit 113
GRANGE WAY
BALDOYLE
INDUSTRIAL ESTATE,
BALDOYLE,
Ireland